R in Insurance 2015 Conference Programme
The programme for the 3rd R in Insurance conference is on-line. The event will take place on 29 June 2015 at the University of Amsterdam. Time to register now.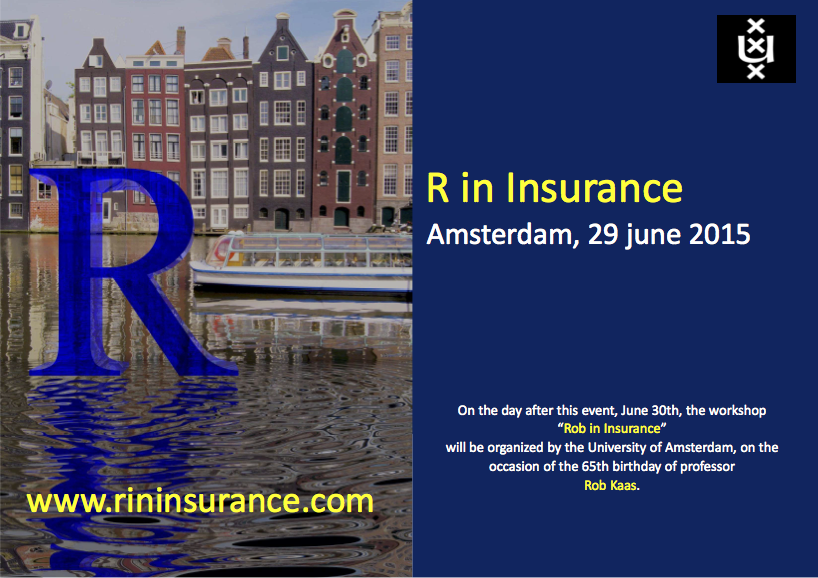 Special thanks to our sponsors, without whom the conference wouldn't be possible: CYBAEA, RStudio, APPLIED AI, Milliman, QBE Re, AEGON, Delta Lloyd Amsterdam , Deloitte.
You find impressions from the previous events on www.rininsurance.com.
We hope to see you in Amsterdam!
9.30 – 10:30: Keynote 1
10:30 – 11:30: Session 1 – New developments in risk modelling for large portfolios
11:30 – 12:00: Tea/Coffee break
12:00 – 13:00: Session 2 - Lightning talks on R packages and case studies
13:00 – 14:00: Lunch break
14:00 – 15:00: Session 3 – Life insurance and mortality modeling
15:00 – 15:30: Panel discussion
15:30 – 15:50: Tea/Coffee break
15:50 – 16:50: Session 4 – Non life and health insurance
16:50 – 17:50: Keynote 2
17:50 – 18:00: Closing
18:30 (or earlier, if possible) Boat trip to the conference dinner at De Vijffvlieghen
Citation
For attribution, please cite this work as:
Markus Gesmann (Apr 28, 2015) R in Insurance 2015 Conference Programme. Retrieved from https://magesblog.com/post/2015-04-28-r-in-insurance-2015-conference-programme/
BibTeX citation:
@misc{ 2015-r-in-insurance-2015-conference-programme,
 author = { Markus Gesmann },
 title = { R in Insurance 2015 Conference Programme },
 url = { https://magesblog.com/post/2015-04-28-r-in-insurance-2015-conference-programme/ },
 year = { 2015 }
 updated = { Apr 28, 2015 }
}