R in Insurance: Abstract submission closes end of March
Hurry! The abstract submission deadline for the 3rd R in Insurance conference in Amsterdam, 29 June 2015 is approaching soon.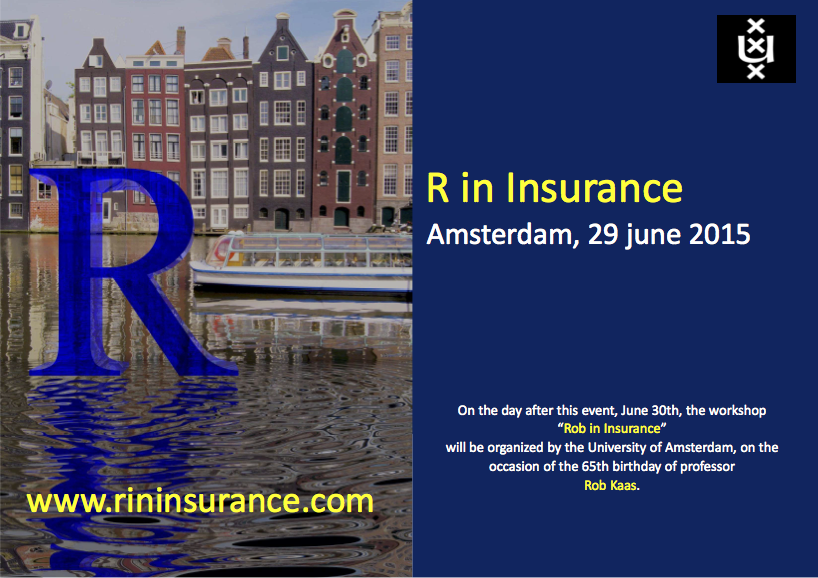 You have until the 28th of March to submit a one-page abstract for consideration. Both academic and practitioner proposals related to R are encouraged. Please email your abstract of no more than 300 words (in text or pdf format) to [email protected].
The intended audience of the conference includes both academics and practitioners who are active or interested in the applications of R in insurance.
Invited talks will be given by:
Prof. Richard Gill, Leiden University
Dr James Guszcza, FCAS, Chief Data Scientist, Deloitte - US
Details about the registration are given on the dedicated R in Insurance page at the University of Amsterdam.
Special thanks to our sponsors again: Rstudio, Cybea, Applied AI, Milliman, QBE, AEGON and Delta Lloyd Amsterdam.
Btw, notes from last year's conference were published in the R Journal.
Citation
For attribution, please cite this work as:
Markus Gesmann (Mar 17, 2015) R in Insurance: Abstract submission closes end of March. Retrieved from https://magesblog.com/post/2015-03-17-r-in-insurance-abstract-submission/
BibTeX citation:
@misc{ 2015-r-in-insurance-abstract-submission-closes-end-of-march,
 author = { Markus Gesmann },
 title = { R in Insurance: Abstract submission closes end of March },
 url = { https://magesblog.com/post/2015-03-17-r-in-insurance-abstract-submission/ },
 year = { 2015 }
 updated = { Mar 17, 2015 }
}