R in Insurance: Presentations are online
The programme and the presentation files of the first R in Insurance conference have been published on GitHub.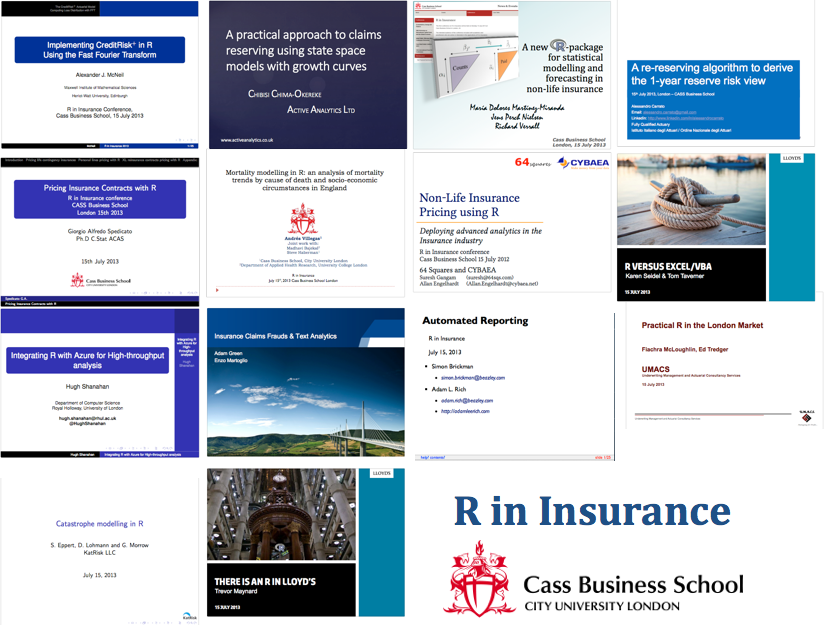 Front slides of the conference presentations
Additionally to the slides many presenters have made their R code available as well:
Thanks again to all the presenters who have helped to make the event a success.
Hopefully, we see you again next year!
Citation
For attribution, please cite this work as:
Markus Gesmann (Jul 31, 2013) R in Insurance: Presentations are online. Retrieved from https://magesblog.com/post/2013-07-31-r-in-insurance-presentations-are-online/
BibTeX citation:
@misc{ 2013-r-in-insurance-presentations-are-online,
 author = { Markus Gesmann },
 title = { R in Insurance: Presentations are online },
 url = { https://magesblog.com/post/2013-07-31-r-in-insurance-presentations-are-online/ },
 year = { 2013 }
 updated = { Jul 31, 2013 }
}